How is it that I'm writing a recap from the weekend?! Just like that the Carlisle 2023 weekend has come and gone.
While Bob and Darlene got a week's head start while visiting family in New Jersey, the rest of us traveled on Wednesday and Thursday. Clarence and Stephanie were the first to arrive at the hotel and check out just how nice it was by spending Wednesday night. Thursday morning Keith and Lindsey connected with Mikey to wrap up the drive though they split up and Mikey went to be the welcoming committee at the hotel and Keith and Lindsey met Clarence and Stephanie at the showfield to unload the cars.
As cars arrived to the hotel parking lot, many hugs and new hotel excitement were a buzz! A huge surprise from Dave and Cindy when Goofy pulled up in front of the hotel and the great debate of is Goofy new or is it repainted began! Robert arrived having completed all those miles from MI solo this time around. John arrived from New York sporting some new wheels and still not many miles on his M. It was like the old days when Docside Willies took place midafternoon and we had our typical table in the back. Think we've been sat there for the last 12 years or so – pretty amazing! We learned an important piece of information about John Smith that he couldn't get away from all weekend – he strongly dislikes pickles. If pickles was said once over the weekend, it was said 100 times! Scott and Suzanne finished up at the junk yards after an overnight drive and joined us back at the hotel.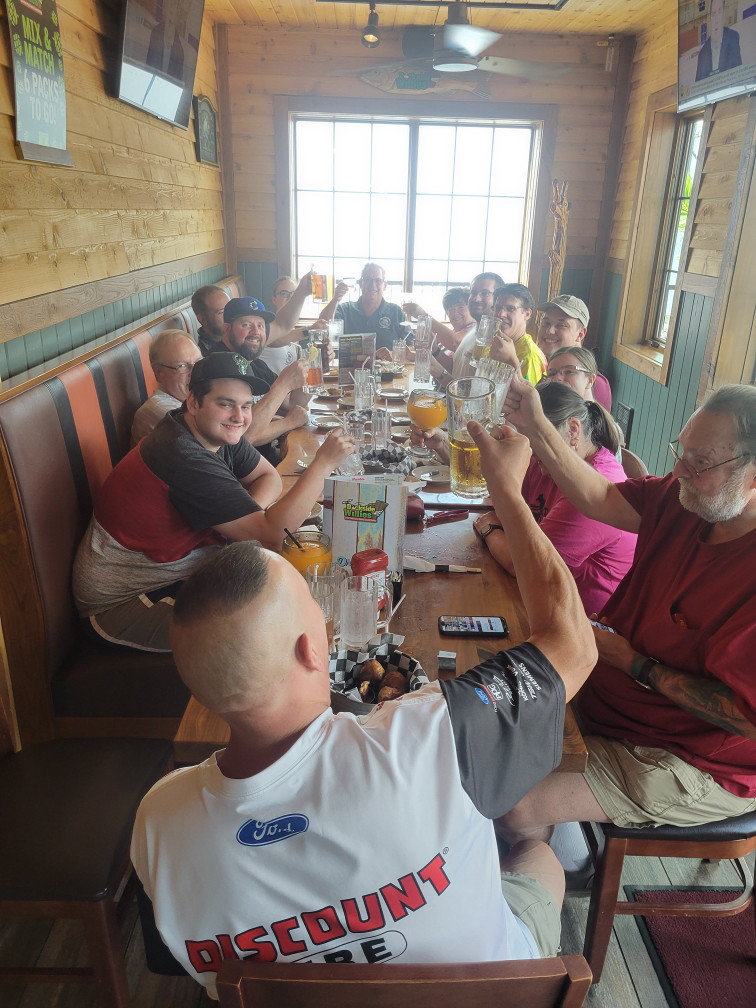 Friday morning started very early as M-Pressive welcomed all to the showfield. We setup tables and hung banners. The surprises didn't stop with the newlyweds, Joe and Heather, arriving in a new police Intrepid. There was lots of cleaning that took place and the fleet looked great! We divided for dinner and fun was had by all. I'm not sure how it came about but all of a sudden, many would yell sppiiiiccccyyyyy! On the way home a bunch of us got to facetime with Waikel's family on the drive back to the hotel. Of course, we hung in the parking lot with lots of laughs.
Saturday morning, the o'dark thirty crew took in sunrise at the showfield to start the day. It's always a special time together!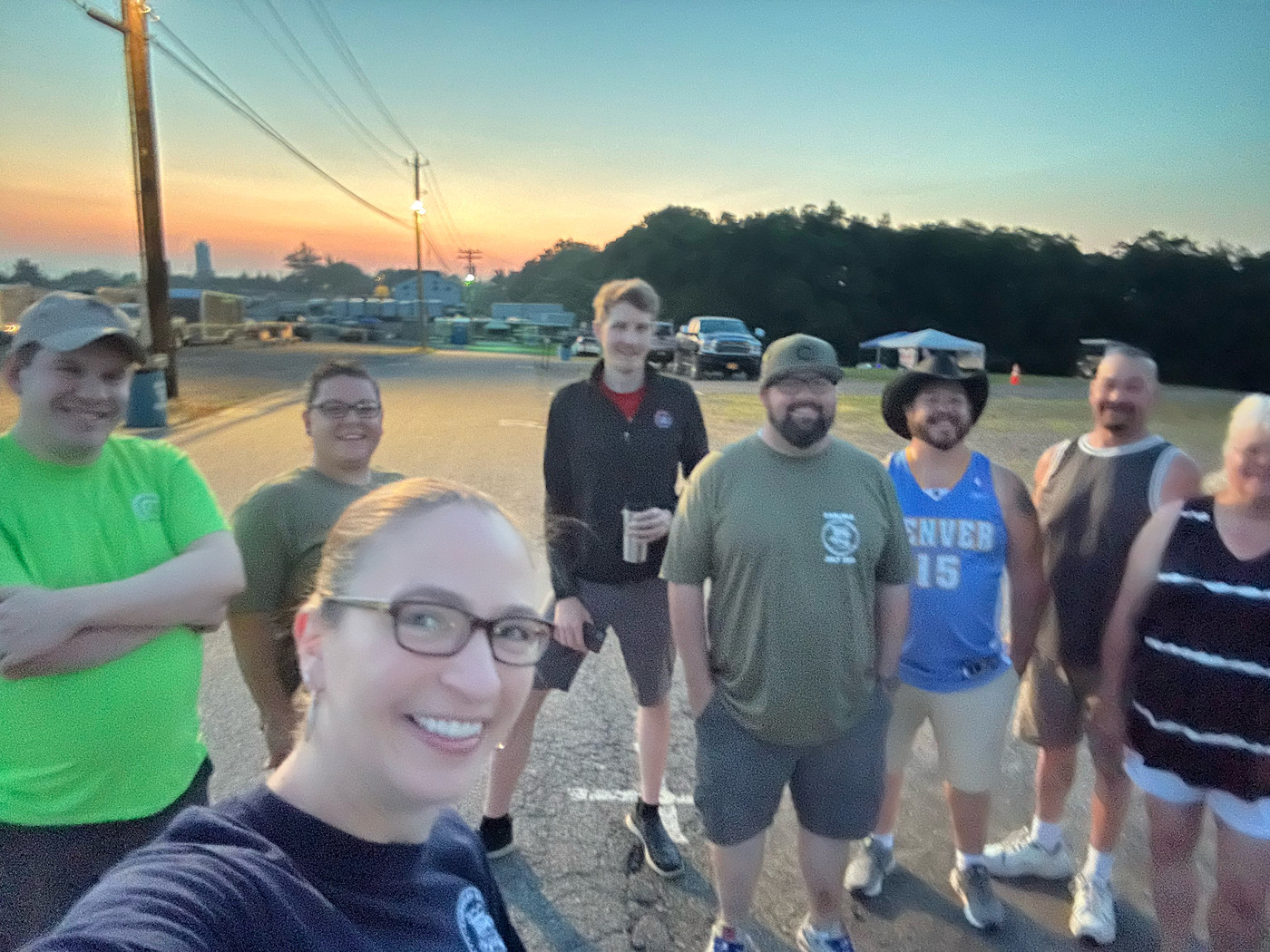 Our long-traveled member Justin and his dad, Matt arrived along with our closest members, Tim and Kelly, and Sam joined us for the day. It was a hot and busy day at the swap meet, showfield judging, and our club award voting. Michael White made the best addition to the club décor by finding these amazing vintage Car of the Year banners which he donated. They will have with the club flags in the future!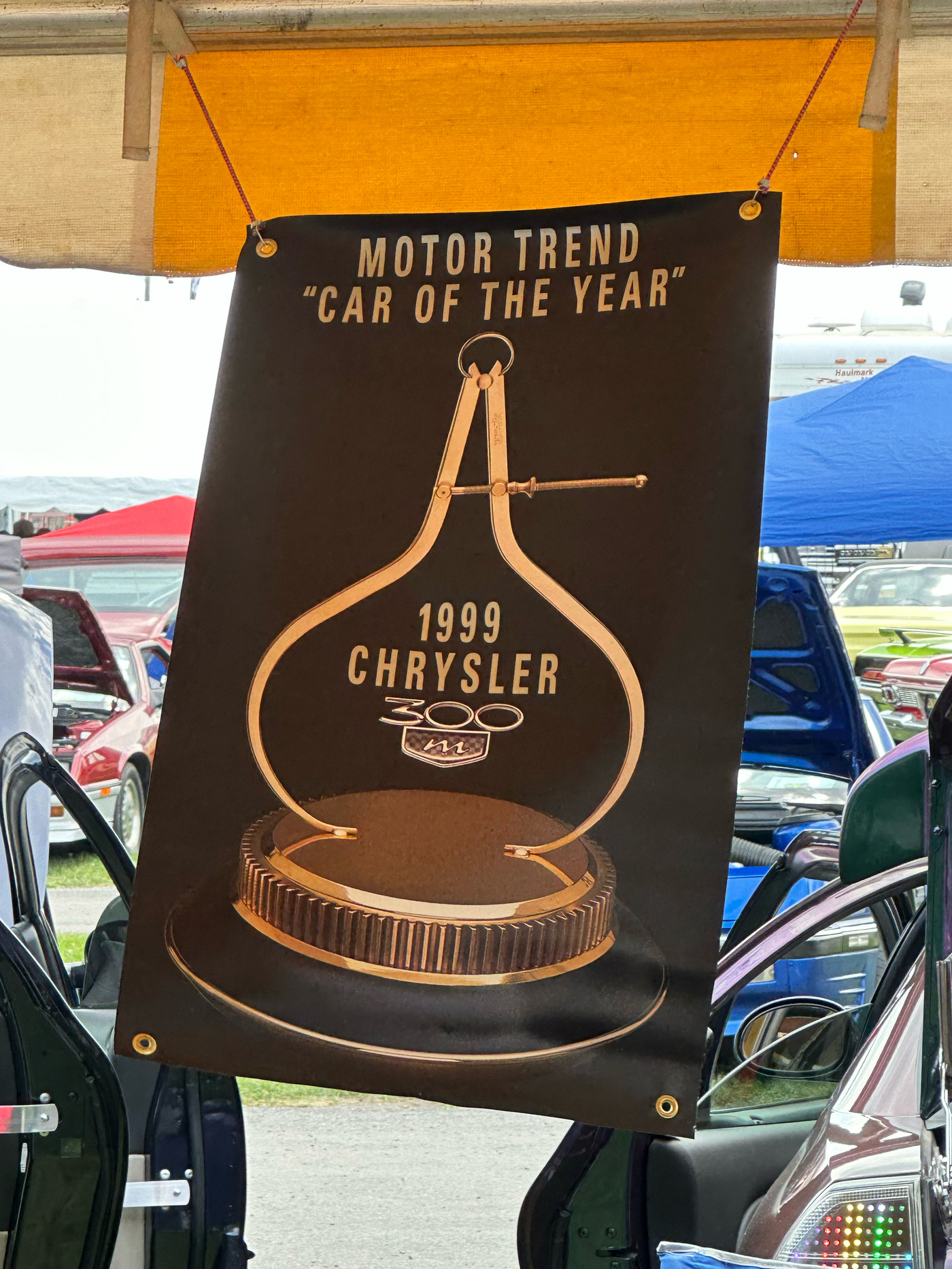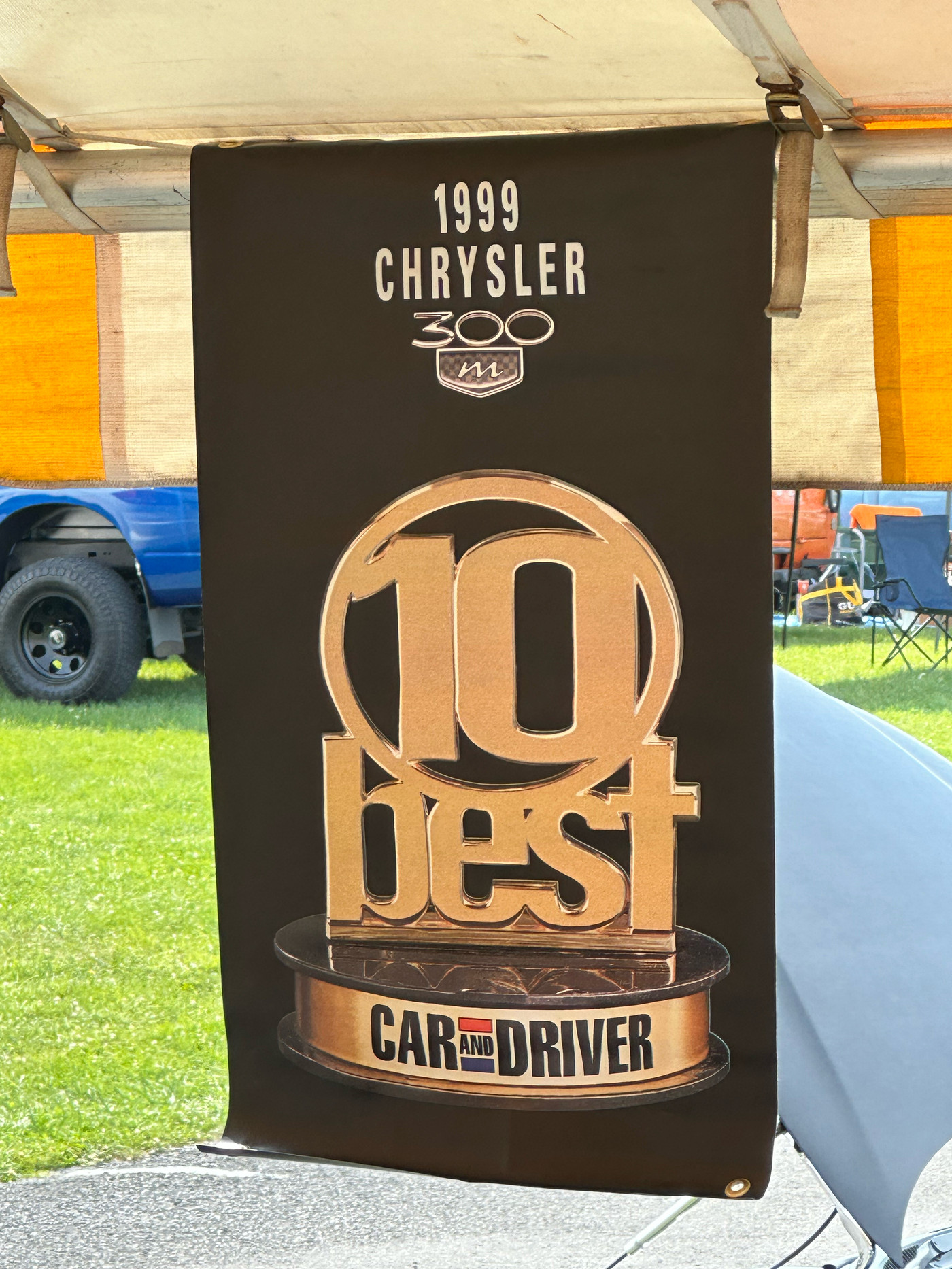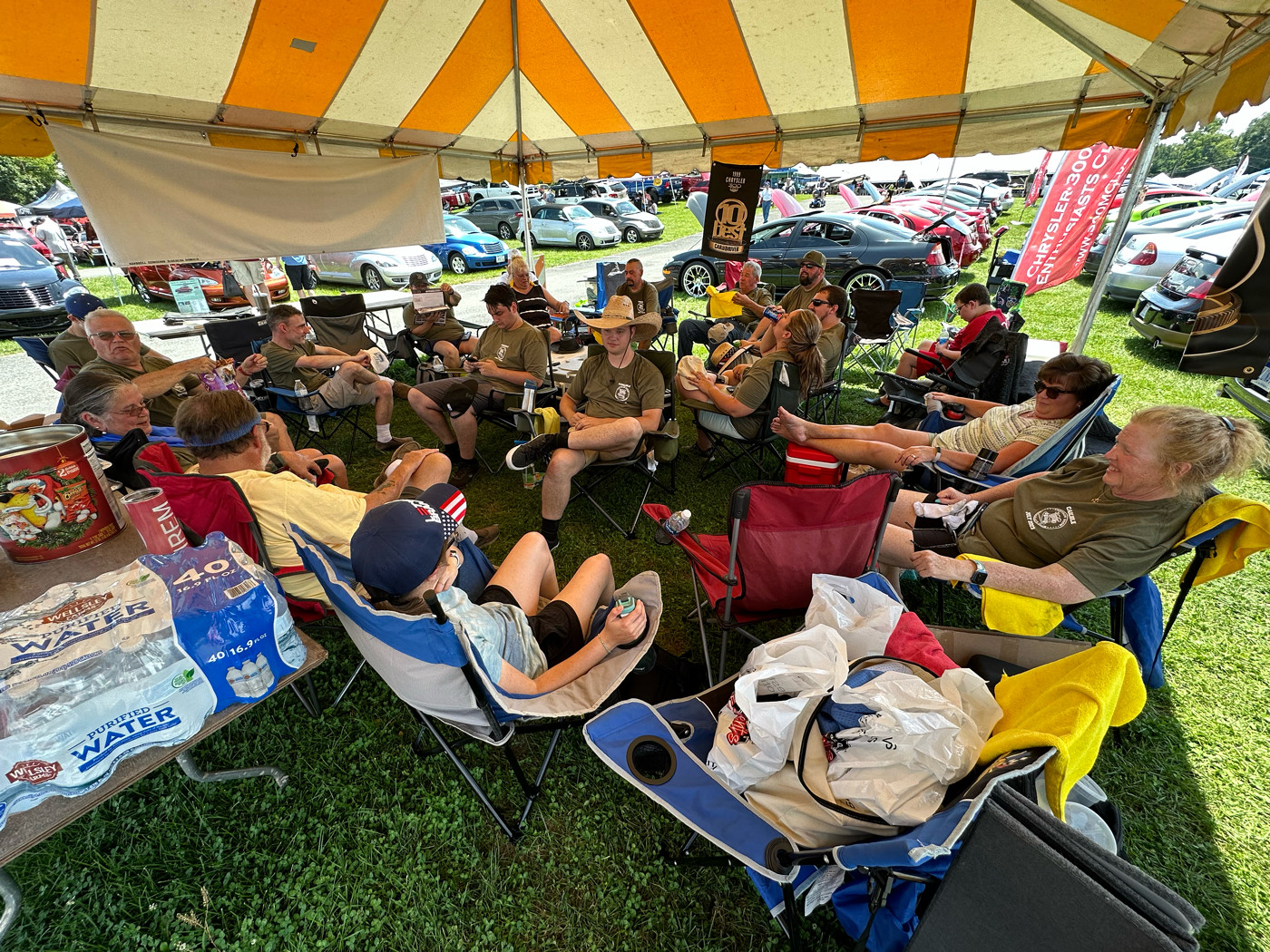 The club dinner on Saturday was at Ever Grain Brewing and just a fantastic experience. We were greeted with the most AMAZING custom-made car cookies – Sarah, you're just incredibly talented! We dined, Keith and Ryan had a food affair, and Keith passed out the awards starting with present ROM winners. John Smith announced the Spirit of the Club winner for the John Benjaman Virtual Car Show and Keith presented the 2022 Ride of the Year award. Club awards were announced:
STAN WALKER MEMORIAL MOST CRUISIN AWARD -Longest Distance Traveled-
Justin Hopkins
MEMBER'S CHOICE -As Voted by All Attending Members-
Mikey Taylor
PRESIDENT'S CHOICE -Chosen by the Current President-
Michael White
BEST EXTERIOR -Exceptional Exterior Styling-
Cindy and Dave Cochran
MOST UNIQUE MODIFICATION -Creative Design & Execution-
Clarence Anthony
BEST IN SHOW -Most Outstanding Ride in Attendance-
Keith Jarvis
Back at the hotel, we gathered in the parking lot for cake and our annual toast. Sean got to take Fire M for a spin while Bob hung from the sunroof – my how the roles have changed! One large circle this year kept us all laughing. Charlie passed out additional shots which made for an early night for him. As the rain started to come down, the remaining few headed to bed.
Sunday morning was a slow arrival to the showfield as winners were posted. It's always a short morning getting the cars lined up for the parade and filling the bleachers to cheer the winners on. Being in the Blue section of the showfield this year, allowed us to be in the beginning of the parade. Great picture opportunities for all the winners and Keith arrived with a 12-hour old solidified baconater compliments of Ken and Anne.
The goodbyes continued after the parade as we rushed Ryan into his vehicle and back to Ashley and new daughter, Addison. The final packing and loading of the cars was a bit early, but we had an important place to be! A quick stop at the hotel to carpool over to the Wesley residents for an amazing birthday lemonade stand. Ken was quite the host chatting with everyone and we indulged in wonderfully delicious lemonade and made major contributions to Ethan's fundraiser for St. Jude. We barely beat the New Cumberland Fire Department who later showcased the event on their Facebook page. Way to go Ethan!! He raised $710 to donate to St. Jude!! Amazing!
Sunday's dinner crew was small but enjoyable. Mikey ate an entire pizza and Keith ate the hottest pizza in the world but it also have pickles on it – theme of the weekend, I tell ya! We discovered some beautiful plants thanks to Scott's app suggestion and may have taken one home with us. We spent some time in the lobby hanging out before relocating to the parking lot for a bit. We headed up early as we had rooms to pack and sleep to get for drives home on Monday.
Monday started off great but did not stay that way for all who traveled! There were multiple issues for about half of those traveling and ranged from wheel blowouts and flats to leaking fuel lines. While there were trips home that were easy and uneventful, the true demonstration of family found us on the side of the road together. We're in this together, no matter what you need. Truly amazing!
Thanks all for another fun year in the books! It's always nice to get together and laugh so much. Until next year!