So many have already shared their heartfelt recaps and reflections on the wonderful weekend in Carlisle and celebrating the 25th anniversary of the LH platform! It's just amazing to hear from everyone! After a bit of trying to be away while I started a new job, I'm happy to share an official recap for the club.
It was a year in the making and couldn't have turned out any more successful!! 46 cars and 70 people in attendance - AMAZING!!! It's fitting that Carlisle began for Keith and I on Tuesday as we've been working on planning the event for so many months now. Picking up Remi and his father, Domi, at Logan airport here in Boston was the beginning of a wonderful adventure for us all. Wednesday we packed up all the cars (I'm pretty sure they think I was crazy for all of the stuff that I was planning on packing into the cars - with master packing skills, we were on our way!). Arriving at the 'Day's Inn' just in time for dinner - even the pizza delivery guy drove an Intrepid!! Thursday morning we met up with Clarence and Stephanie and it was officially a meet and we were on the road to Carlisle!
Arriving to the hotel to happily park on the far side of the sewage treatment plant, it was thrilling to see all arrive...all except poor Goofy who had an incident on the way through Washington DC. How does one miss a trunk like that?! Some colorful Band-Aids and members with tools allowed access to the goods in the trunk and leave it to Cindy and Dave to have the best outlook! Luckily Ryan's excitement in driving to Carlisle was only a crank shaft sensor and nothing more major on his newly painted snakeskin green Intrepid.
Never to miss a tradition, the group dined at Dockside Willies for lunch/dinner. The shopping assistance of Bill, Colleen, Charlotte, and Gwen ensured we were in good shape for the weekend. As always, thank you for your help, I couldn't do it without you!! Thursday evening was full of topping off the goodie bags with some items, lots of adult beverages, and catching up in the parking lot. It was so nice to see so many small groups gathered around cars catching up, welcoming newbies, and enjoying themselves! There may have been some parking cones used as megaphones in the wee hours of the morning!
Friday morning allowed us to settle into our showfield spot - which was awesome!! Setting up tables, club banners, feather flags, and club gathering space, ensured we have a wonderful home for the weekend. Breakfast and lunch on the showfield brought the group together as goodie bags found their way to their owners. Some of the limited edition items included were a club pint glass, club branded bottle opener, can coozie, engraved club key chain, Saturday's club shirt, a microfiber towel, tub-o-towel wipe, and much more!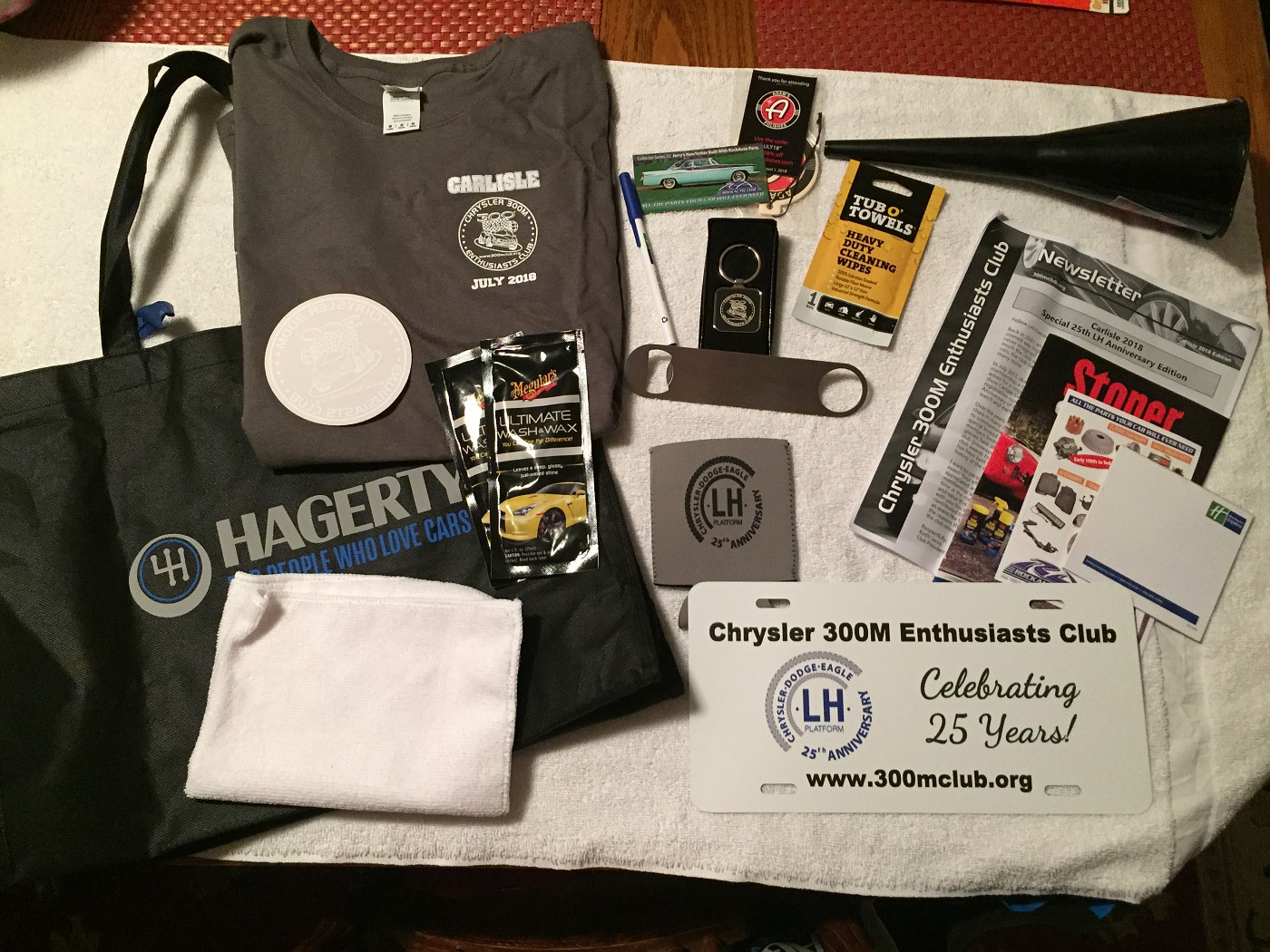 The group divided for dinner as we were simply too big for one restaurant. Of course the parking lot filled up with LHs and shenanigans! A group in chairs sharing a large conversation, small groups gathered at trunks or inspecting the latest mods and everything in between.
Saturday started all too fast with breakfast and prepping the cars for the big day at the showfield. Following the club's second flying tent mishap (ugh!) and lunch, our club award voting opened and the use of the online system for the first time ever allowed for mobile voting - thanks so much for crossing your fingers! It worked amazingly after learning a few tricks about the system. I hope you all enjoyed the process! I'm hooked!!
We had a special presentation from Marc Rozman leading us into the afternoon to hear all about his time at Chrysler working on what would be become the 3.5L engine. The women were off to BINGO and Patrick set a record for the club's longest showfield nap - sorry Bobby! The group made their way back to the hotel and to the Fire House for our annual club dinner. Just before leaving Ed, of Carlisle Events, made his way to our tent with two very special awards! The club received 3rd place for largest club in attendance (just amazing given the local groups and the age and popularity of our cars!!!) and an appreciation award for Keith to recognize his contributions to making this anniversary celebration such a success. At dinner, with some majorly amazing participation in the raffle (thanks for all who donated!!) it was fun to announce winners - I hope you're all enjoying! A special surprise for Keith with another amazing handmade (
Wesley Made
- check it out!!) plaque signed by all in attendance for Keith. It's proudly displayed in our living room!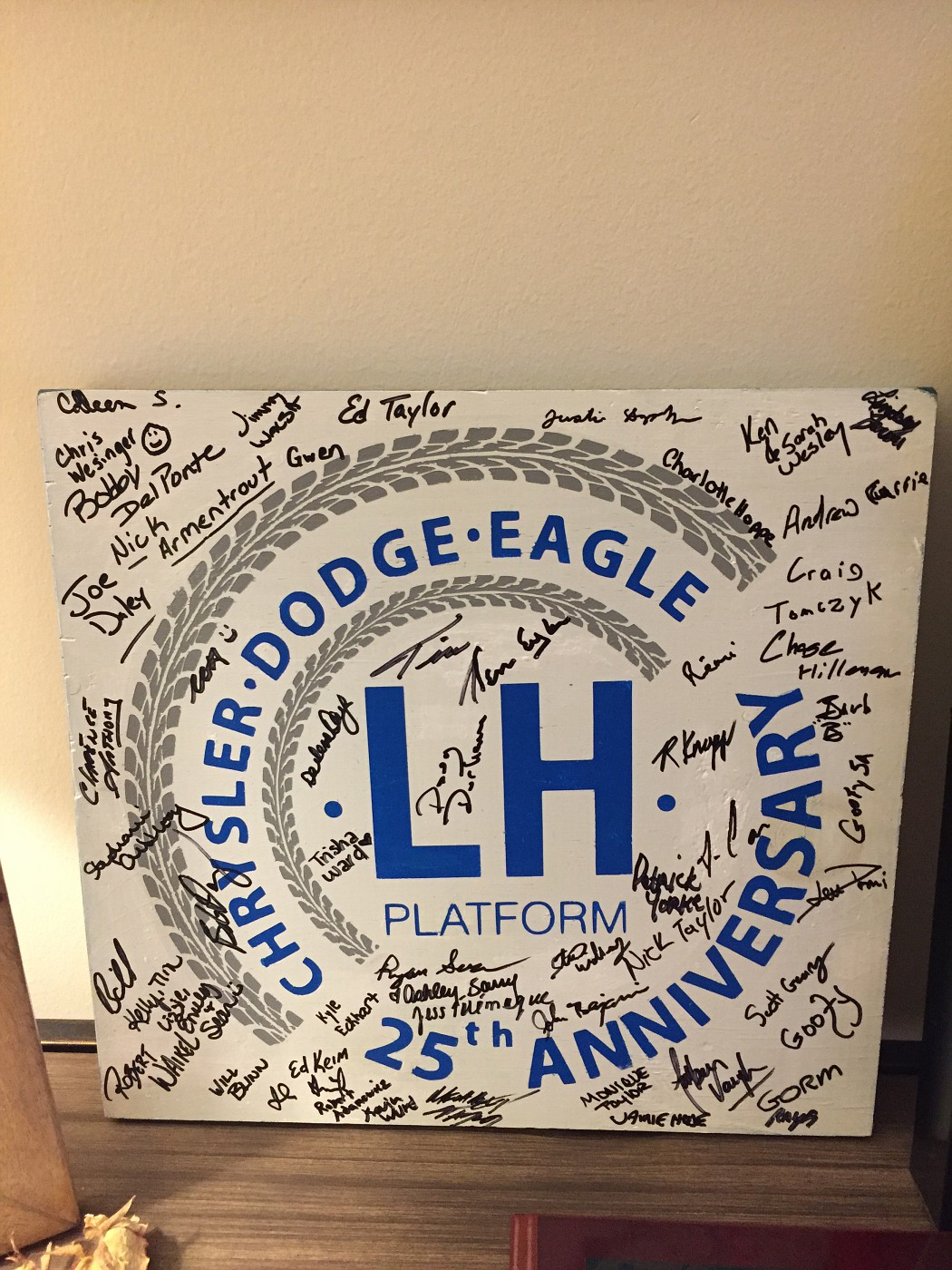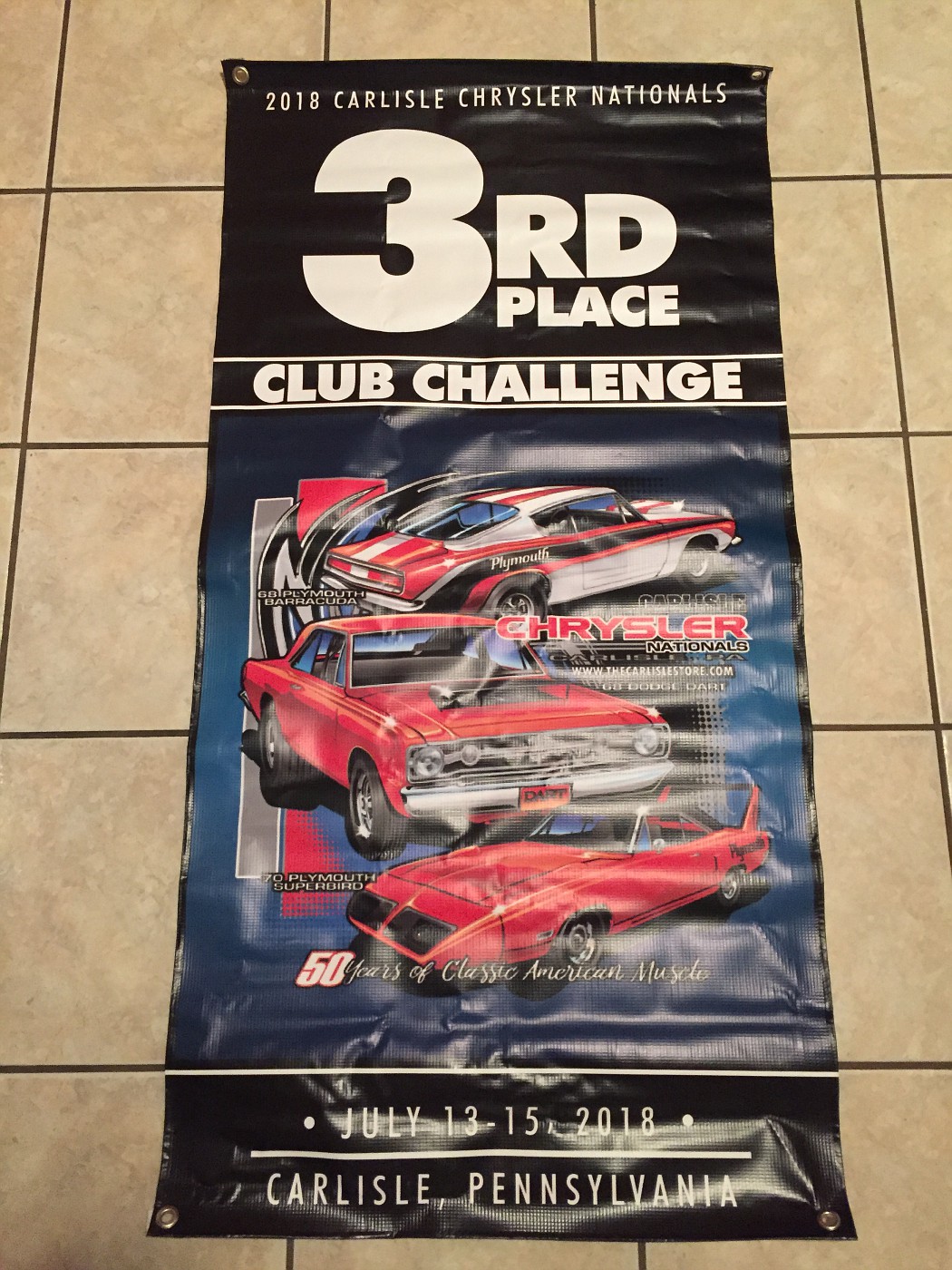 Many orders of duck cakes later, awards were presented, it was amazing to fill the top level of the restaurant! Gathering back in the parking lot for cake and a toast with precious sealed our Saturday night traditions.
Our first time attendees were only new for a second or two as they fit all too well with the oldies who have done this for years. Conversations from a year ago picked up where they left off. Many, many, many laughs were had and even more memories were made!
Sunday was much later in the morning that we gathered at the tent for the last time. Showfield awards were announced and found our group with 9 winners instead of 6 due to the expanded classes. How awesome is it to spread the wealth a bit more sweep the awards!!! Congrats to all the winners of both club awards and showfield - see the winners thread!
Lindsey
2022 Club Treasurer
Ride of the Month Winner: September 2017, May 2019, December 2022
Ride of the Year Winner: 2022
My what, my why, and my how: