1. 1972 Chevy Impala- my first car, brother gave to me as a x-mas gift, nicknamed Pal by previous owner.
2. 1981 Chevy monte Carlo
3. 1993 Dodge Dakota- first brand new vehicle, owned 1 month before tree fell on bed, lost interest and traded it in.
4. 1994 chevy s-10 blazer
5. 1986 chevy k5 blazer (plow truck)
6. 1991 Lincoln Mark VII LSC - one of my favs, minor accident and fought with ins company not to total but to no avail.
7. 1988 Honda accord 2 door coupe - free get out of debt car, fun car to drive.
8. 2003 Chrysler 300M
9. 2000 Chevy K3500 Pickup (plow truck)
10. 2002 300M Special Black- one of my favorites but lost due to engine fire
11. 2005 Toyota Camry se. - current daily for work, bullet proof but hate it.
12. 2011 Ford edge limited, Wife's car
The end for now...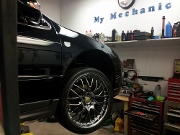 Hosted on Fotki