Hello all!
Two days ago I received something from China you might be interested in... A WiTech VCI Pod clone. I couldn't wait testing it and yesterday night I thought I should share some info about it with you guys.
1. Order and shipping
I purchased the VCI clone on a famous Chinese website (I'm not sure I can share the name here) on Oct. 24th for a bit less than $430 with free DHL shipping. Package was picked-up by the local post services on Oct. 27th. On Oct. 28th I got an email from DHL telling me to prepay the customs... The seller usually lowers the value on the custom declaration but France taxes start at 20€... Anyway, I had to pay about $30 of customs including "handling fees" from DHL... IIRC the VAT was around $5 only.
The DHL guy called me on Monday Oct. 31st but I wasn't at home so I told him to leave the package to a neighbor. I got the package on Nov. 1st when coming back home.
2. The VCI Pod itself
The VCI Pod comes in a small plastic suitcase, shipped as-is without any other protection whatsoever. But it's not a big deal because hopefully there's foam inside the case to protect everything inside. The case contains:
1.20m USB cable, the cable is thick and quality looks good. The plastic bag says it's a USB 2.0 cable, ok fair enough.
OBD-II to DB-15 (VGA connector) cable, something like 1m-1.20m long. It looks very stiff! The cable is thick, both plugs are molded... I hope they will last as long as they look good.
Power cord, 220v@50hz/110v@60hz AC to 12v DC, I don't remember the amperage tho. It's a US plug so in EU a converter must be used.
The VCI Pod itself
A non-labelled CD-R (maybe it was a CD-RW!) with the WiTech v13.03.58 software and all the prerequisites (Adobe AIR v4, Acrobat Reader XI).
A sticker
As I used to live in San Francisco, I made myself a "power cord" with an old EU cord and a ACE Hardware power strip as you can see in this picture. Ok it looks awfully dangerous but it's not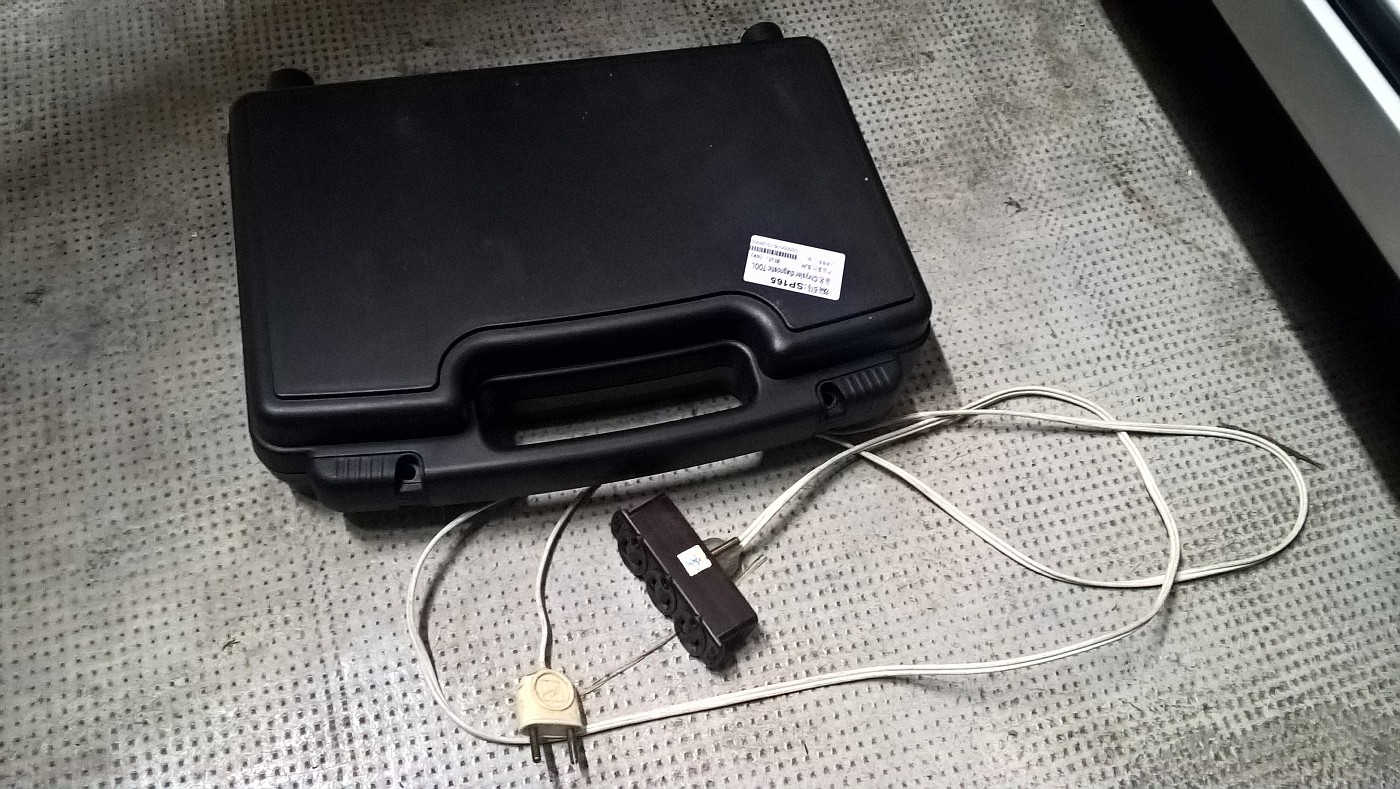 Inside the box... The sticker is glued to the Pod now, and the CD is missing in this picture.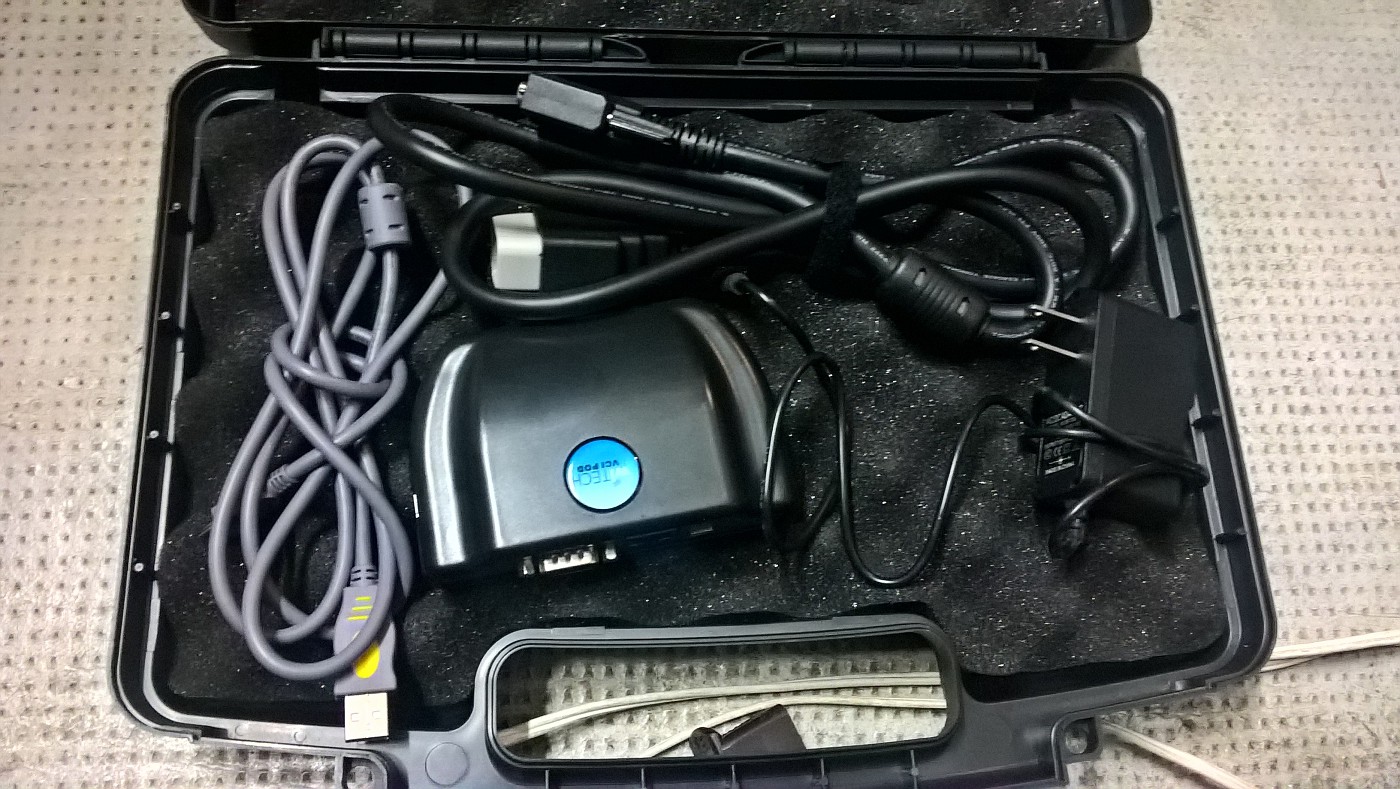 3. Connecting to the computer
First install Adobe AIR and Acrobat Reader. During AIR installation, disable the automatic updates! Then start the WiTech install and follow the wizard... You will then see a "WiTech Manager" in the task bar near the time/date, start it and disable the automatic updates in the preferences menu.
You might also notice a yellow (or red) icon in the task bar, this is the WiTech server. It should turn green after a while (no need to connect the Pod).
You may connect the Pod to your computer using the provided USB cable, or a regular ethernet cable.
USB: On the first connection with the computer, the USB port will be recognized as a "virtual" network adapter. I'm using an old Windows XP laptop and no driver was required. The Pod acts as a DHCP server and your computer will be given an IP address, something like 172.22.22.x. The Pod address is 172.22.22.22. You don't need to know that... It's useless unless you're a nerd like me Good thing about the USB, the Pod will boot on the USB power. Once it's connected to the car, no need for the power cord for basic use.
Ethernet: This is a bit trickier... There's no DHCP server here so you must configure your network card before you can connect to the Pod. Set your computer network adapter's IP to 192.168.0.whatever except 10, like 192.168.0.1. Netmask must be 255.255.255.0. Gateway and DNS are not mandatory, leave these settings alone. The Pod ethernet IP address is 192.168.0.10. I prefer ethernet to USB but in this mode the Pod must be powered by the power cord.
To summarize:
USB = no configuration on the PC, no power cord required on the Pod.
Ethernet = basic network configuration required on PC, power cord required. Ethernet plugs are supposed to be stiffer than USB tho...
And here it is! Pod near the shift lever, laptop on my laps, ready for some DRB III exploration!
4. What's inside, and what differs from the original Pod
First let me tell you I have no experience with the original Pod. Here I'm making assumptions based on videos and pictures I got on the Web.
Let's look at the back of the Pod... There're the USB and Ethernet connectors, as well as a few LEDs. But these are missing:
Left of the DB-15 VEHICLE connector, there should be a RJ-11 connector labelled "TRIGGER".
Above the USB connector, there should be a WiFi antenna connector.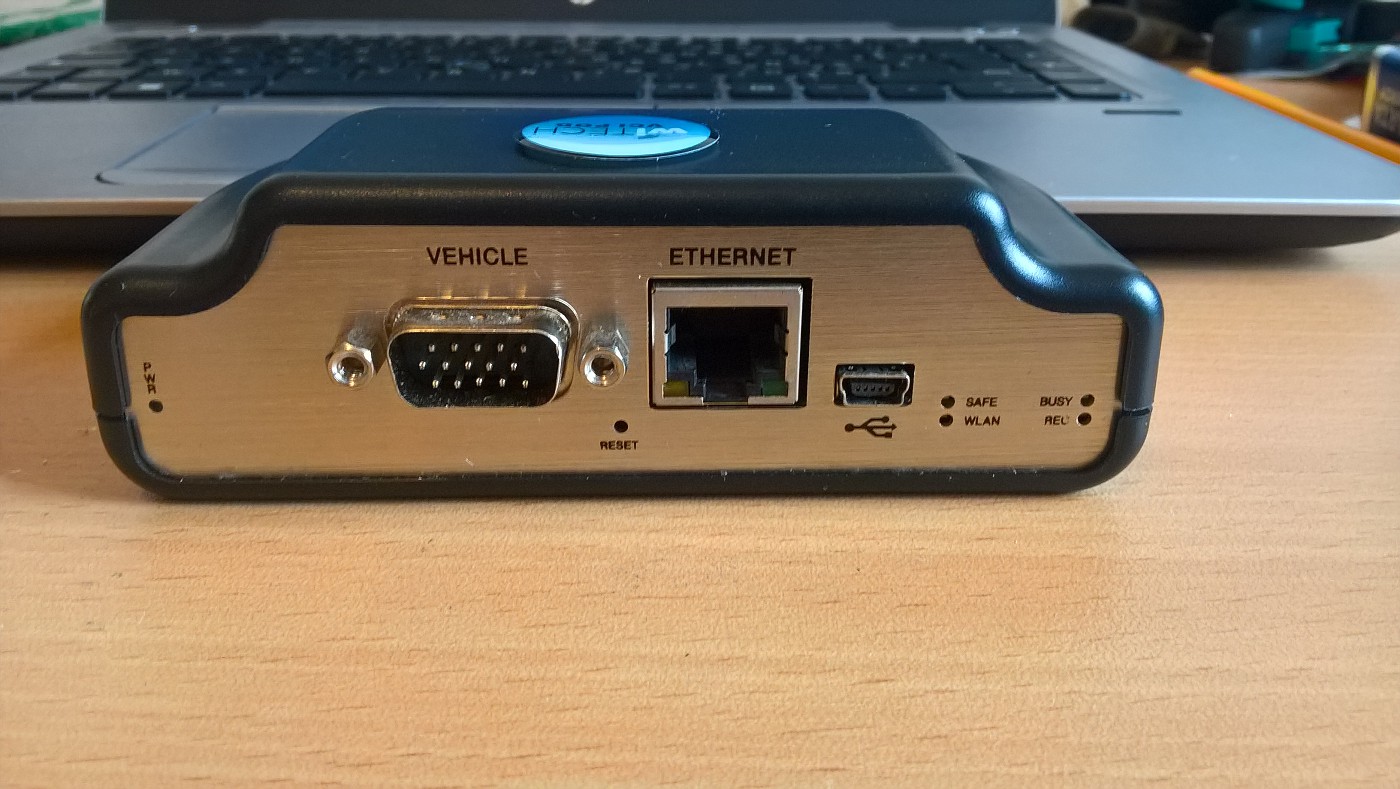 No sticker there...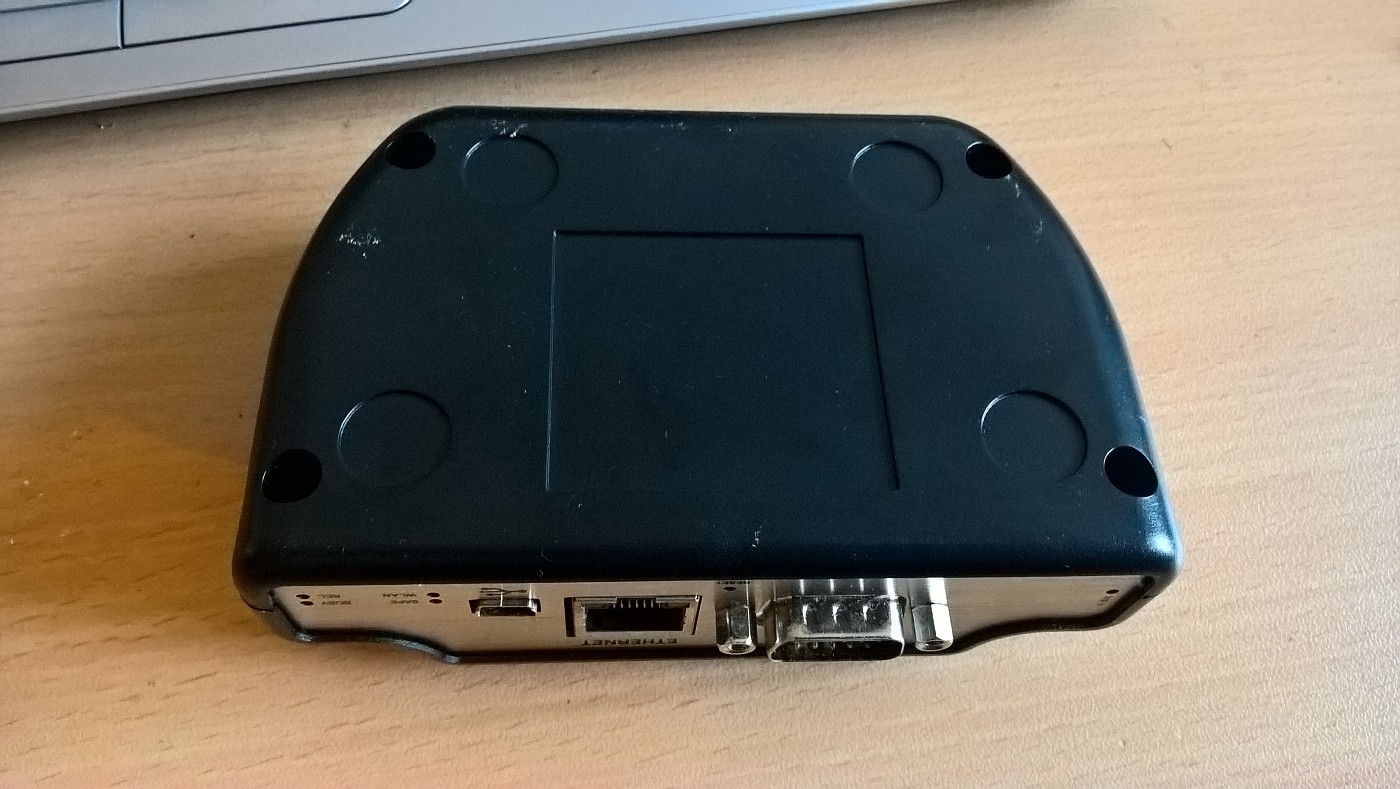 Let's crack it open! Ok it's not that bad... The board itself looks fine, and it looks similar to an original one. Chips are mostly ATMEL, solder joints look good. However:
Bottom left corner, see the square SMD Ball Grid Array labeled U5? There should be the WiFi chip. On it's right, labelled J1, is the trace for the antenna connector.
Bellow the 1G SD card, there's J2 connector. J4 (located bellow the DB-15 connector) is missing as well. SMD board connectors are soldered on the original Pod, but they aren't connected. I guess they are used during manufacturing to flash some firmware, or for debugging.
Right above the SD card, there's something labelled J6 I think... I don't know for sure what goes there... There are also 3 vertical traces above these traces, near the metal plate. I think this should be Bluetooth chip and antenna.
Upper right corner, close to the DB-15 connector, this is where the RJ-11 connector should be.

Solder joints on the USB plug look weak, and I understand why these devices (including original ones) break so many plugs there! But thanks to the capacitors close to the plug, it's an easy fix.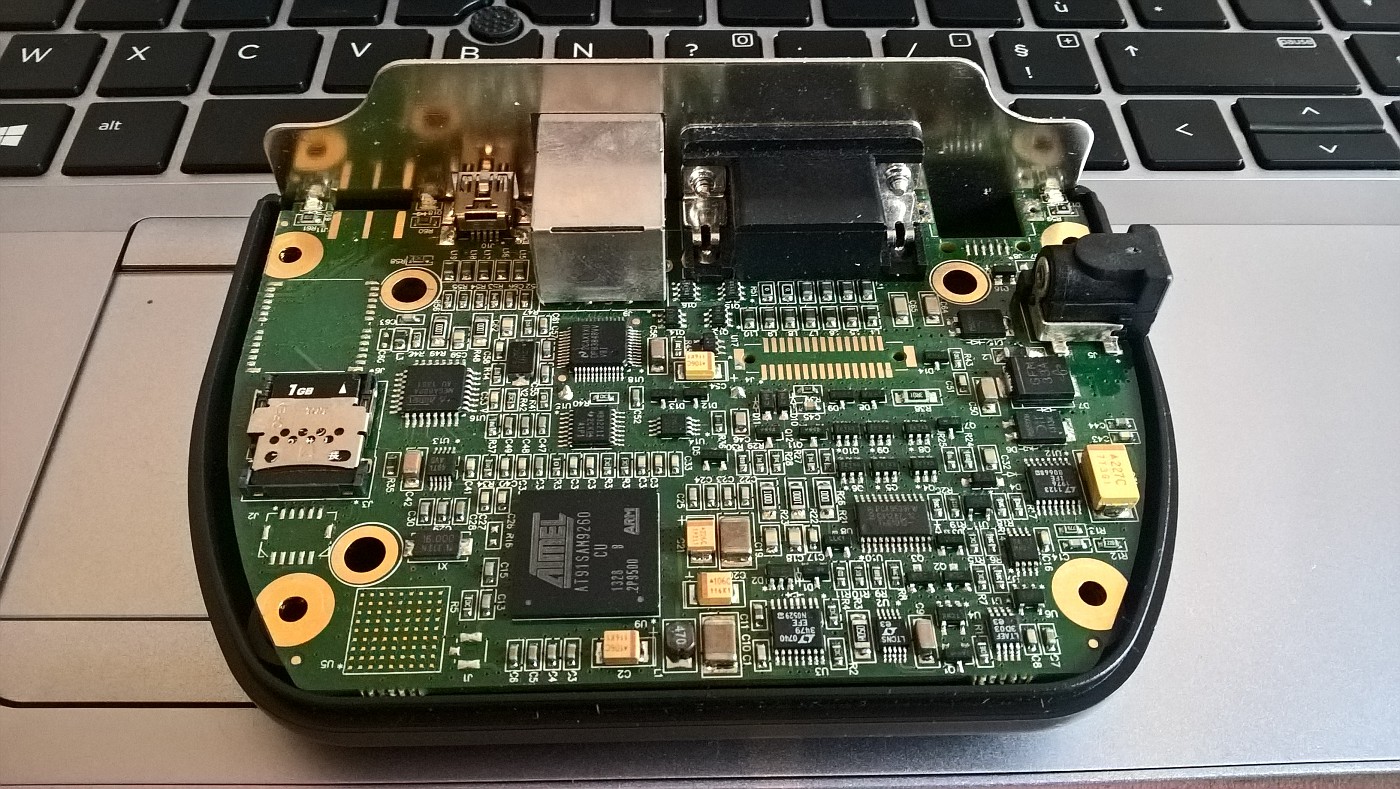 Now on the other side of the board, a few components are missing but who knows why. It's not uncommon to design a board with components that aren't implemented in production boards. One thing to note tho, the logo and the URL to Bright Star Engineering. I don't know if they used to build the WiTech boards...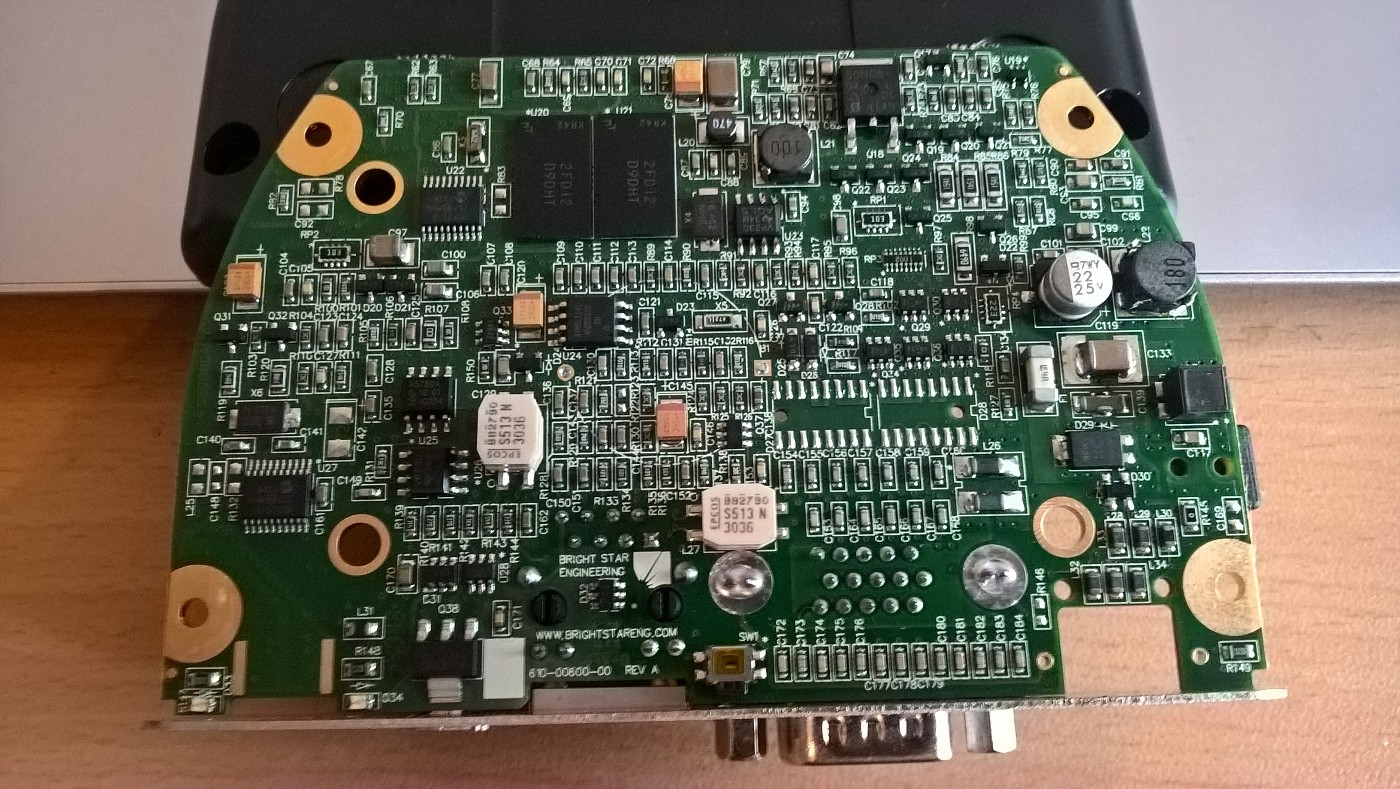 Next post will be about the DRB III emulator. Because the WiTech software supports vehicles from 2004 to 2013, our cars aren't supported and we must use the DRB3. But hey, that's why I bought this toy for
2004 300M Special
- Work in progress...
2000 300M Euro -
Sequential taillights
1999 300M - "Black Girl" -
RIP